World Photography Day
World Photography Day is an annual event, a worldwide celebration of the art, craft, science, and history of photography. This year the World Photography Day falls on Wednesday, August 19th, 2020. World Photography Day is celebrated so that people around the world can communicate their feelings and express themselves through the art of photography. The whole idea behind the day is to hold discussions about photography and encourage young professionals and interested candidates to pursue photography as a passion. The significance also comprises in motivating students to treat photography as a career.
History of World Photography Day
World Photography Day originated in 1837 when Frenchman Louis Daguerre and Joseph Nicephore Niepce invented the daguerreotype, a photographic process. The French Academy of Sciences announced the operation on January 9, 1839, and the French government announced the invention as a gift to us on August 19, 1839.
The first color photograph was created by Thomas Sutton in 1861 and combined 3 monochrome images using different color filters (Red, Green, and Blue). The first official world photography day was celebrated on August 19, 2010. 270 photographers globally participated in an online photo exhibition, showing their works to people from more than 100 countries and the World Photography Day hosted its first global online gallery.
World Photography Day 2020 Theme
World Photography Day 2020 is observed on 19th August 2020 to pay homage to the beautiful form of art. World Photography Day is an unofficial holiday that celebrates the art and science of Photography.
World Photography Day 2019 Theme
The world photography day 2019 theme is dedicated to History. Do not miss your chance to share your photos that correspond to the subject of the holiday.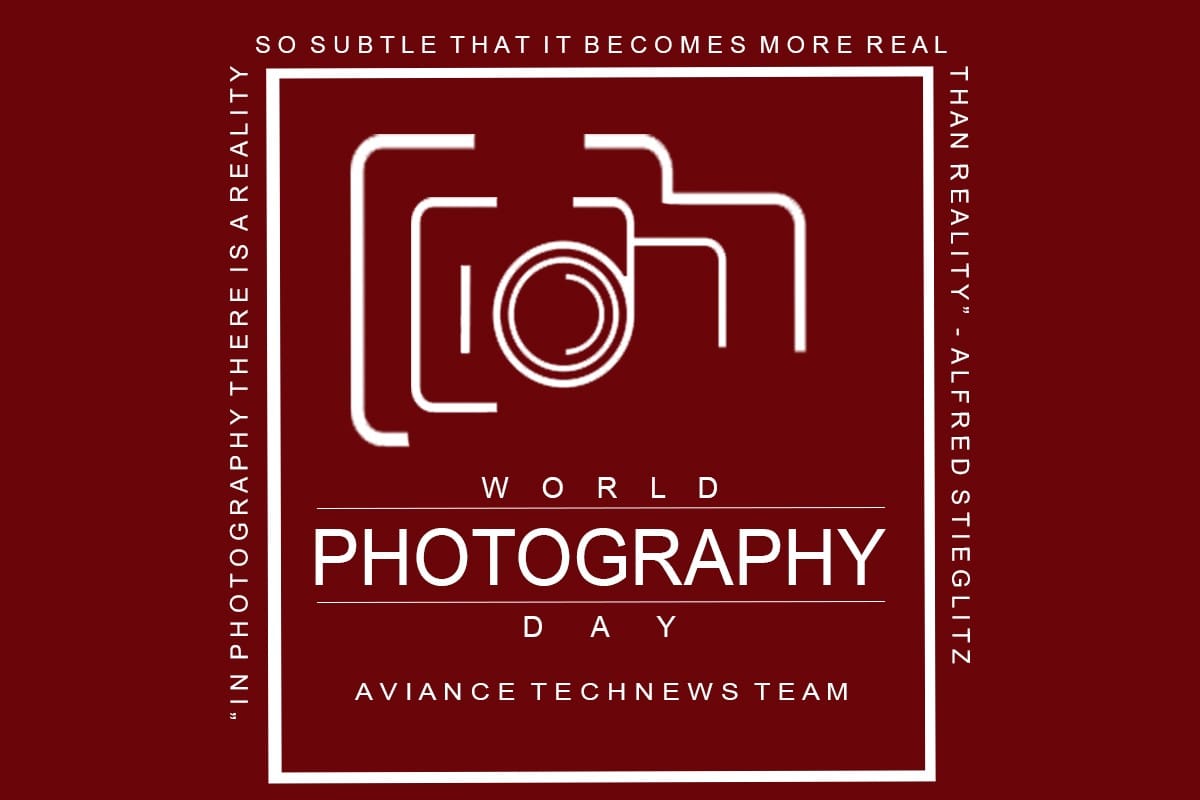 How to Celebrate World Photography Day?
Since 2010, lots of events dedicated to world photography day are held globally. Their main goal and idea behind the day are to unite and motivate people to share experiences, create something new, and look for original photo themes. Here we mention the ways on how to celebrate this special World Photography Day.
1. Visit Interesting Places near your location. Just walk around your hometown with your camera and take a shoot of scenes you've never photographed before.
2. Start your own Photography Blog. Upload photos and make a good portfolio.
3. Start a 365 Project.
4. Join a Photo Community and share your photographs.
5. Watch a Photography Movie or Documentary
Inspirational Quotes for Photography Day 
"In photography there is a reality so subtle that it becomes more real than reality." — Alfred Stieglitz
"There is one component the photo needs to contain, the humanity of the moment." — Robert Frank
"You don't take a photograph, you make it." – Ansel Adams
"In images, there is a truth so delicate that it turns into greater reality than reality." — Alfred Stieglitz
"Photography is the story I fail to put into words." — Destin Sparks
"A portrait is now not made in the digicam however on both aspects of it." — Edward Steichen
"A good photograph is knowing where to stand." – Ansel Adams
"The fine component about an image is that it in no way changes, even when the humans in it do." — Andy Warhol
"Taking pics is like tiptoeing into the kitchen late at night time and stealing Oreo cookies." — Diane Arbus
"Photograph: a picture painted by the sun without instruction in art." — Ambrose Bierce
"The photo that you took with your digital camera is the creativeness you desire to create with reality." — Scott Lorenzo
---
Also See:☟
---