Prepostseo.com is an online platform that features more than 95 online tools related to SEO and website management. Among others,
it has tools such as a plagiarism checker, DA checker, and paraphraser as well as various utilities for beautifying and minimizing JavaScript, JSON, HTML, CSS, etc.
In this post, we are going to be looking at the various features and offerings that you can enjoy with this toolkit.
We're going to move on to discuss the pricing, and then we'll wrap up with the final verdict on whether or not this platform is worth using or not.
Features of Prepostseo
Following are some key features of Prepostseo.com
Content Optimization Tools
Prepostseo.com comes with more than 20 tools in the 'Writing and Education' category. As compared to other similar platforms, this vast number of offered tools is a salient feature of Prepostseo.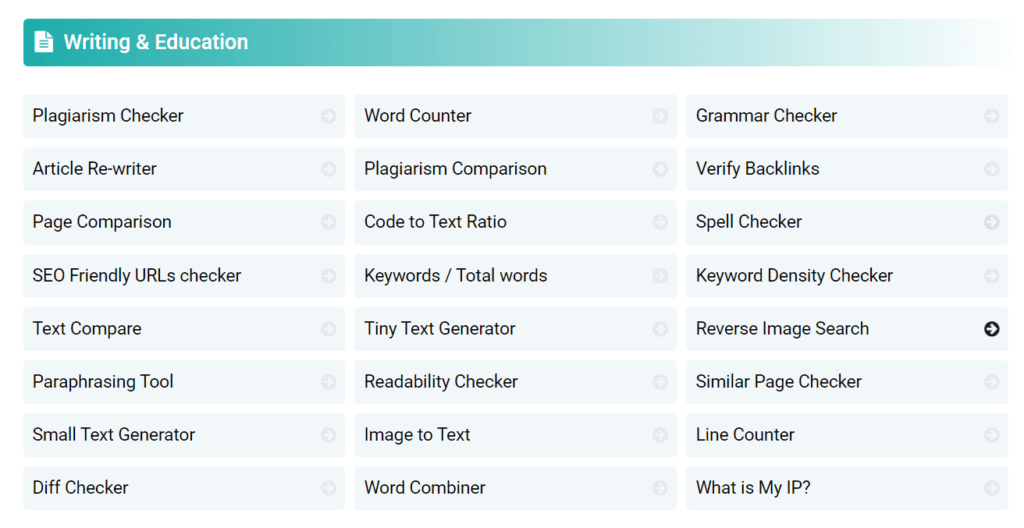 However, the general interface style on most tools is plain and basic. While you can get your work done using these tools, you will have to miss out on the frills and aesthetics which you can get with tools like Grammarly and Quetext.
The plagiarism checker by Prepostseo is a good tool that you can use for detecting duplication in your content. It comes with a range of useful features, and the process itself is quick and accurate.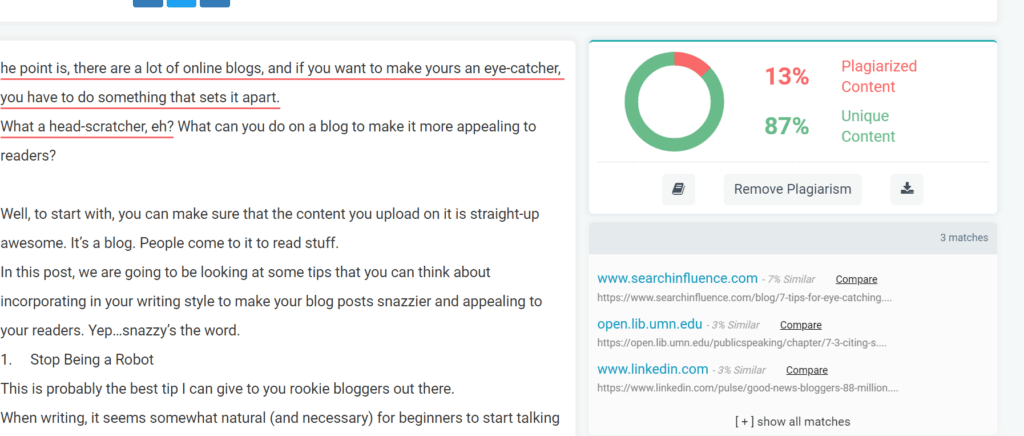 This plagiarism checker is free to start, and it can even be used by unregistered users. Considering how some tools can give you an annoying pop-up for signing up just before running the plagiarism scan, this is a very welcome feature.
You can create an account to increase the word limit to 1,500. If you want to go higher than that, you can purchase a paid plan (which you can get for as low as 10 bucks per month).
One glaring downside that we found when using this website was the number of ads on the interface. For free users, the ads can be very annoying and detrimental to the experience.
Grammar Checker
Preposteo.com also offers a free grammar checking tool that works fairly accurately. It is available for free and unregistered users, and it can be used indefinitely without any limitations on the number of uses, etc.
A notable advantage that this grammar checker offers over other similar tools is that it works very quickly.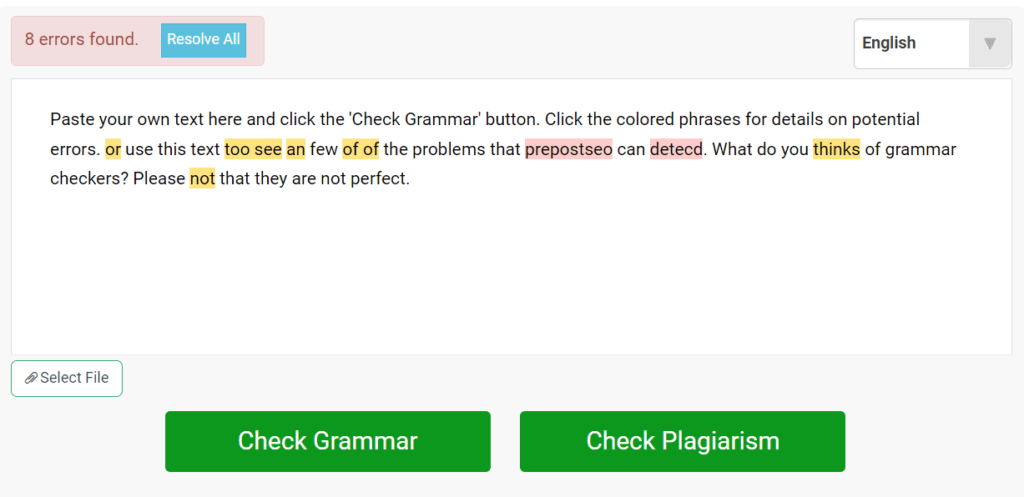 With tools like Grammarly, you first have to sign in (or sign up…if it is your first time). After that, the tool gets loaded; which takes up more time. Then there is some more waiting till you upload the document and the editor loads up.
However, with the tool offered by Prepostseo, the process is very quick. The website itself is fast to load, and the grammar checker tool in particular works quickly as well.
But, on the downside, this grammar checking tool does not save the formatting of the entered content, and you will lose all types of effects and formatting styles that you may have added to it.
Readability Checker
Prepostseo also offers a readability checker that shows the grade levels, readability index, text statistics, and averages of the entered content.
Some readability scores that you can get with this readability checker include:
Flesch Kincaid Reading Ease
Flesch Kincaid Grade Level
Coleman Liau Index
Automated Readability Index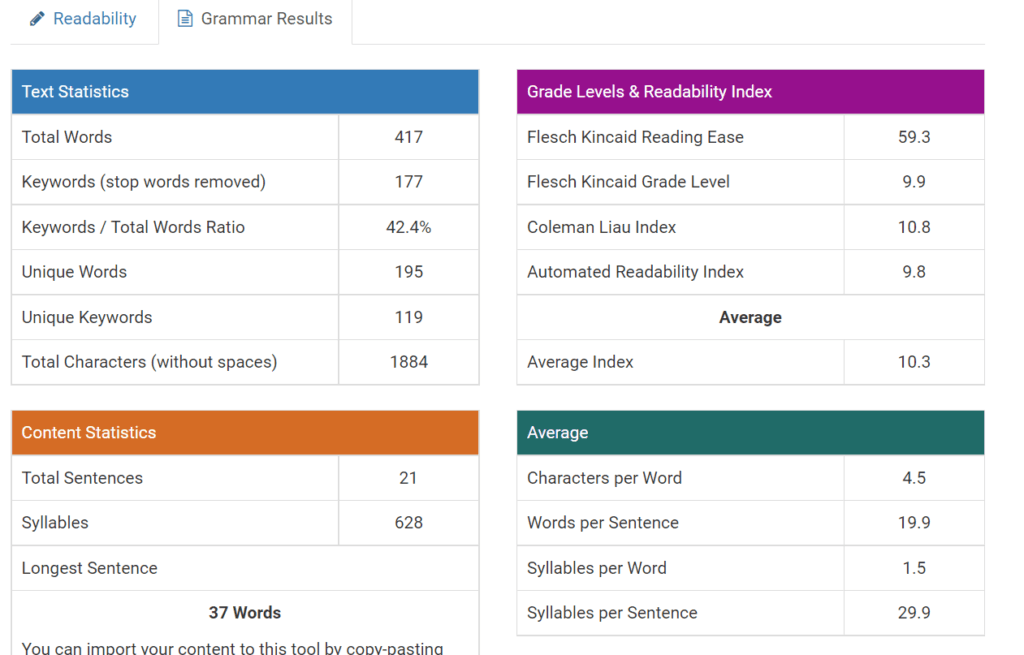 This readability checker also gives you the density for the 1-word, 2-word, and 3-word keywords in the content.
The number of metrics and statistics that were given by this tool are impressive. Not a lot of tools give this much information in just one process.
Domain Tools
Other than tools for content optimization, Prepostseo also features various 'Domain' tools that you can use for monitoring and working on your site's SEO.
There are quite a few utilities in this category, but for the sake of keeping this review short, we're going to be looking at one of the most commonly used ones:
DA Checker
DA (Domain Authority) is a score created by Moz that depicts the probability of a website to appear in the SERPs.
It is, in a way, a good score that webmasters and SEO experts can use to gauge how well a website is doing in the rankings.
The DA checker by Prepostseo lets you check for the domain authority and page authority for multiple websites and web pages.
Free users can enter up to 10 URLs at a time whereas premium users can add up to 500 links in a single search.

Another excellent feature that you can enjoy with this DA checker is the Excel file exporting option.
You can click on the button below the results to download the generated results as a .xls or HTML file. You can also do a direct export to Google Sheets.
Pros and Cons of Prepostseo
Pros:
Comes with a large variety of tools
Can be used for free
Can be used by unregistered users
Completely web-based
Affordable plans
Easy to understand and use
Cons:
The free version has many annoying ads
Basic design
Many tools require a captcha on the free plan
Pricing
Prepostseo offers a platform-wide premium plan that you can purchase on a monthly or yearly basis. The least expensive plan that you can purchase is the 'Basic' annual package at $50.
Here is the list of benefits and perks that you can enjoy on a paid plan: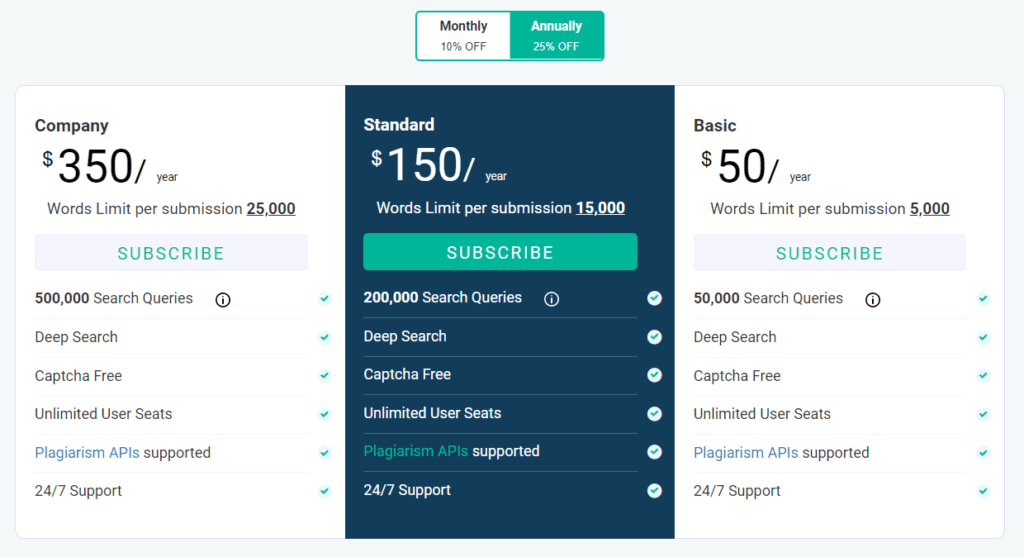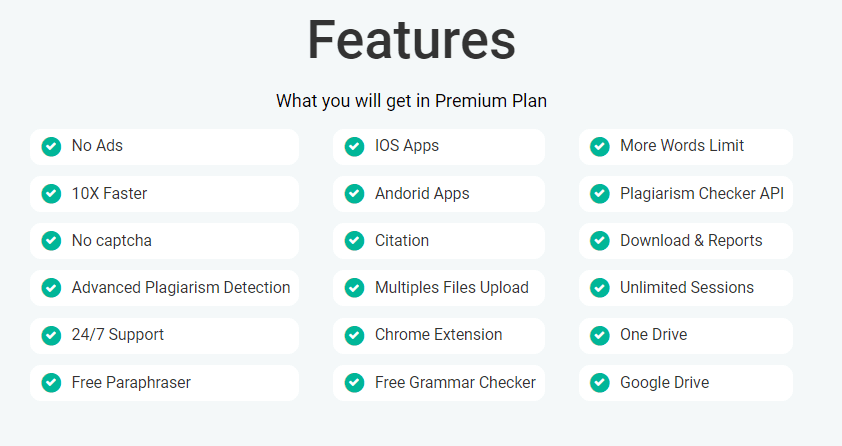 Is Prepostseo Worth Investing in?
We've looked at the various tools and features offered by Prepostseo, and considering the price of the plans, we can say that it is absolutely worth investing in this platform.
As we just saw in the pricing section, the most affordable plan that you can buy at Prepostseo is $50/year.
That comes down to less than 5 bucks per month.
The awesome part about this platform is that buying a paid plan will not only get you access to a certain tool or utility. Rather, the premium account will be for the whole website.
You will be able to enjoy an ad-free and captcha-free experience with all the tools. Similarly, you will be able to enjoy increased word limits for tools like the plagiarism checker.
You will also get access to the 'Creative' mode on the paraphraser, and you'll be able to enter up to 500 links on the DA checker.
The point is, with this less of a price and with this many offerings, it is definitely a good deal to buy a paid plan on Prepostseo.
Frequently Asked Questions (FAQs)
a. Are There Any Downloads Required for Using Prepostseo?
No. Prepostseo is completely web-based. You can download reports from various tools such as the DA checker and the plagiarism checker.
But you don't need to download any type of .exe files etc. to start using the platform.
b. Do I have to Make an Account to Use Prepostseo?
You can use Prepostseo without signing up. However, for registered users, the limits on various tools are increased, and the user experience is better in general.
c. Are All of Prepostseo Tools Available for Free?
Yes. While you can use all the tools on the platform for free, you will have to deal with ads and input limitations. You can remove these by buying a paid plan.
d. What is a 'Search Query'?
You will see the words 'Search Query' written in the details of the various plans. For example, the Basic plan has 50,000 search queries and the Standard plan has 200,000.
These search queries are used up by the plagiarism checker. A single search query refers to one sentence that is checked by the tool.
If you insert some content consisting of 10 sentences, you will use up 10 queries.
If we take 8 – 10 words in each sentence as an average, 50,000 queries would mean that you can search 400,000 to 500,000 words in the plagiarism checker.
e. Do I Need to Buy Premium for All the Tools Separately?
No. The paid plan covers the whole platform, and you will be able to enjoy the premium features of all the tools by making a single purchase.
Conclusion: Our Verdict
There is a proliferation of tools online. There are various tools for checking plagiarism, paraphrasing, removing grammatical mistakes, and grading readability.
Prepostseo is a place where you can come to use all these tools collectively on one platform rather than having to flit from site to site.
This is the first thing that we think is an awesome advantage of using this toolkit.
Moreover, although there are a lot of SEO tools available online, not all of them are effective and worth using.
For example, there are several plagiarism checkers that have a poor algorithm and they don't help in checking the uniqueness of your content at all.
Prepostseo, despite whatever shortcomings it has, features a whole array of properly functioning and useful tools. You don't have to worry about dealing with inaccurate details and data.
In the end, our verdict is that Prepostseo is a decent platform to invest in. It comes with a range of tools that you can trust, and reliably use to make your tasks easier and more streamlined.