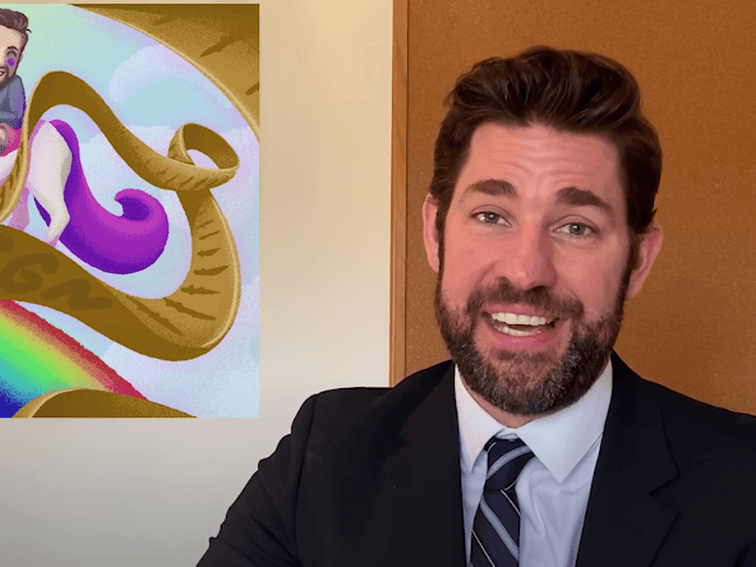 [responsivevoice_button rate="1″ pitch="1.2″ volume="0.8″ voice="US English Female" buttontext="Story in Audio"]
John Krasinksi, David Ortiz and the Red Sox delight hospital workers
This week on Some Good News, John Krasinski delved into the world of fan art, dropped Marvel and The Office references, and brought a massive gift to deserving doctors and nurses.
The third episode in the positive YouTube series also saw cameos from Krasinski's wife Emily Blunt, ex-Red Sox star David Ortiz, as well as the entire Red Sox team.
For this episode, Krasinski sent doctors and nurses working in the COVID unit of a hospital in Massachusetts to Fenway Park, the Red Sox stadium.
There, after throwing a pitch, they received a standing ovation from the Red Sox team who were projected onto the big screen with the message, "Thank you, healthcare heroes."
For Krasinski's Marvel reference, skip to 1:25, where he features fan comic book art. He looks knowingly at the camera and says, "It's the closest thing I'll ever get to playing a comic book hero." Krasinski famously auditioned for Captain America, but missed out to Chris Evans.
For The Office reference, skip to 6:28. It'll speak for itself.
---
Also See:☟
---