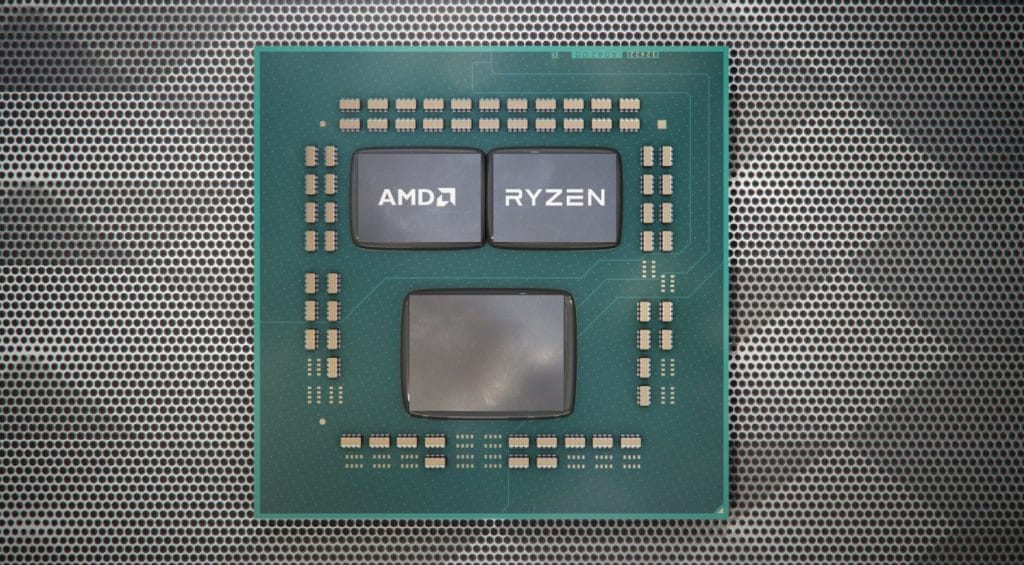 [responsivevoice_button rate="1″ pitch="1.2″ volume="0.8″ voice="US English Female" buttontext="Story in Audio"]
AMD Will Support Zen 3, Ryzen 4000 CPUs on X470, B450 Motherboards
This site may earn affiliate commissions from the links on this page. Terms of use.
Last week, we covered the news that AMD's upcoming Zen 3 CPUs (presumably to debut under the Ryzen 4000 brand) would be incompatible with the company's previous X470 and B450 motherboards. AMD has since decided to reverse course, citing end-user unhappiness with the decision as a major reason for its course correction.
The original reason for AMD's decision not to update the UEFI on certain platforms is because apparently some early AM4 CPUs can only support a 128Mb UEFI. Most AMD motherboards, therefore, ship with this size of BIOS chip — and there's a limited number of CPUs AMD can support in that amount of space, given that a certain amount of room is typically allocated for the UI interfaces that modern motherboards use. For that reason, AMD was going to shift Zen 3 / Ryzen 4000 support to the B550 platform and beyond.
Now, however, the company has pledged to bring Zen 3 support to 400-series chipsets. AMD clearly isn't sure exactly how it's going to pull this off, since the company literally says it'll "work out a way" to make this happen. Reducing the number of CPUs that a motherboard supports could still work — but which CPUs do you remove to add features? How much onboard memory can you get back if OEMs drop to a basic text UI?
400-series motherboards might deploy a UEFI fork, where older CPUs would remain the default and the relative handful of users with newer chips would need to flash over to a beta UEFI variant. As always, support will depend on motherboard manufacturers being willing to add it in the first place. Since this strategy would require more complexity than simply issuing a UEFI update, some motherboard manufacturers may be more willing to adopt it than others. An updated version of AMD's B550 chipset support diagram might look a bit like this:
In short, this is an announcement where the details are still being very much worked out. AMD has listed seven points in its PR statement on how the upgrade is supposed to work. The program is rather different than any upgrade service we've heard about, so you'd best read through them if you want to take advantage of it:
1). AMD will develop and share code allowing motherboard manufacturers to support Zen 3 on select B450 / X470 motherboards using select beta BIOSes.
2). Using one of these beta BIOSes will probably remove support for previous CPUs.
3). The upgrade path will be one-way. BIOS flashback will not be supported.
4). BIOSes will only be made available to customers who have verified a Zen 3 CPU purchase, to minimize the chances that any motherboard is flashed for the wrong chip.
5). Beta BIOSes for various boards may not be available at the Zen 3 launch.
6). This will be the last upgrade for 400-series boards. Next-generation CPUs will require a B550 motherboard or later.
7). AMD continues to recommend a 500-series motherboard with a Zen 3 CPU for an optimal experience.
Features like PCIe 4.0, for example, are highly unlikely to be supported on X470 / B450 motherboards in the future with future Zen 3 CPUs.
Overall, this is an impressive example of a company changing course in response to enthusiast feedback and going out of its way to enable support for a relatively small group of people. X370 motherboards, however, will be limited to Zen 2 / Ryzen 3000.
I genuinely thought AMD's overall upgrade record was defensible before the company made this announcement, so extending additional support to X470 is icing on the cake. At this point, both X370 and X470 will have been supported through two full architectural upgrade cycles — X370 with Zen+ and Zen 2, X470 with Zen 2 and Zen 3.
AMD also reiterated that Zen 3 will be available in 2020, though no information on launch timing, pricing, or core counts is available. I suspect AMD will emphasize improving performance per core rather than core counts this year, in much the same way that Zen+ built on Zen's IPC and power consumption rather than dramatically tweaking core counts. The market needs time to digest the core count doubling we've seen in the past year and I think that'll happen throughout 2020 and into 2021.
Now Read:
---
Also See:☟
---