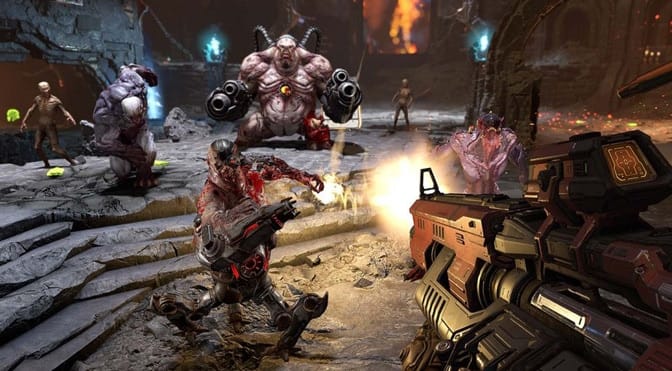 [responsivevoice_button rate="1″ pitch="1.2″ volume="0.8″ voice="US English Female" buttontext="Story in Audio"]
WATCH: Doom Eternal Hits 1,000fps on Liquid Nitrogen-Cooled Gaming Rig
This site may earn affiliate commissions from the links on this page. Terms of use.
Doom Eternal launched earlier this year, continuing the story of the Doom Slayer as he battles the forces of hell. Developer id talked up the improvements in the new Tech 7 engine prior to launch, noting Doom Eternal was even capable of 1,000 frames per second rendering. At the time, that was a theoretical ceiling. After all, no computer in the world could push 1,000 frames of Doom! Well, it's not theoretical anymore thanks to some liquid nitrogen. 
Bethesda, which published Doom Eternal with id, has posted a video on its Polish YouTube page showing a massively overclocked gaming rig breaking the 1,000 FPS threshold. The hardware is high-end, but it's not an outlandish setup with multiple video cards and server-style components. Here are the specs of Bethesda's test system. 
CPU: Intel Core i7 9700K @ 6.6GHz

Motherboard: ASUS Maximus XI APEX

GPU: ASUS RTX2080Ti Strix @ 2.4GHz

RAM: HyperX Predator 4000MHz CL19 2x8GB

Drive: Samsung 512GB M.2 NVMe Evo Plus

Power: Be Quiet 1200W Straight Power 
The most expensive component on the list is the video card, which runs around $1,200. The CPU is a comparative bargain at $300, and the motherboard is $100 more. As expensive as that all is, I'm sure there are a few people watching the video on a gaming rig with even more powerful components.
Even with all that hardware, Doom Eternal won't hit 1,000fps without some help. That help comes in the form of a nifty custom heatsink filled with liquid nitrogen. At -321 degrees Fahrenheit (-196 degrees Celsius) liquid nitrogen is widely used as a coolant and preservative. And yes, it has occasionally been used for extreme overclocking as seen in the video. It's not a viable long-term cooling solution as the nitrogen evaporates very rapidly, but it allowed Bethesda to push the CPU to 6.6GHz (from 4.9GHz) and the GPU to 2.4GHz (from 1.66GHz). 
The Polish team of x-kom led by Piotr "Lipton" Szymanski and Marcin "Ryba" Rywak successfully hit 1,000fps after several applications of coolant and progressive clock speed increases. So, id wasn't lying about the capabilities of the engine. That said, the scene that finally reached 1,000 frames wasn't the most impressive — a dark room with some glowing panels on the floor. Still, hundreds of frames per second with intense action is excellent. If only there were monitors that could handle it. Maybe we'll have those in time for id Tech 8.
Now read:
---
Also See:☟
---