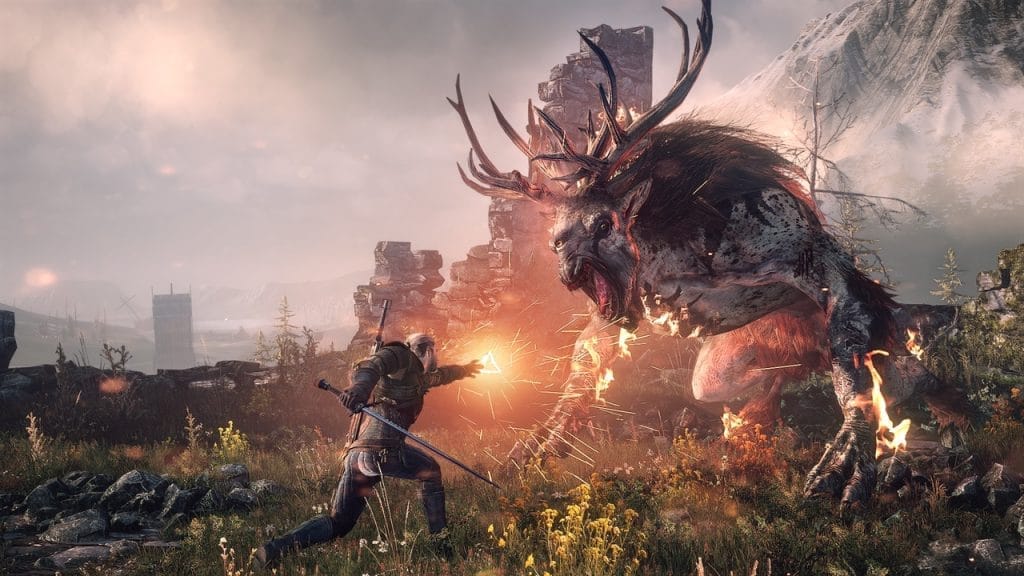 [responsivevoice_button rate="1″ pitch="1.2″ volume="0.8″ voice="US English Female" buttontext="Story in Audio"]
The Witcher 3 Is Getting a Next-Gen Visual Upgrade for PC, PS5, XSX
This site may earn affiliate commissions from the links on this page. Terms of use.
As publishers announce their plans for next-generation consoles, we've begun to find out what sort of upgrades and improvements we can look forward to. In some cases, those benefits are coming to PC gamers as well — CD Projeckt Red has announced a number of technical and visual improvements, including both ray tracing and faster loading times, across all previously released content.
The Witcher 3 is coming to the next generation!

A visually and technically enhanced version of the game will be available for purchase for PC and next-gen consoles & as a free update for owners of the game on PC, @Xbox One and @PlayStation 4.

More: https://t.co/JclubxpJim pic.twitter.com/gWCJzST3vr

— The Witcher (@witchergame) September 4, 2020
The next-generation version will release as a standalone purchase for PC/XSX/PS5, but if you already own the game, you'll get the update for free. It's not clear if owners of the base The Witcher get the upgrade as well or if you need to own The Witcher 3: Wild Hunt, but anyone who has the latter will receive the updates. Customers have also had questions about what happens for folks who have physical copies, and whether the new material will be part of an automatic patch or download (presumably yes, since there's no reason for this not to be true).
To be clear, the video below is not a formal video from CD Projekt Red. It's an end-user created video intended to showcase what a ray-traced path in The Witcher 3 would look like. Looking over the video, it seems to be a fairly solid demo, and sometimes end-user mods can showcase how these effects will look before they are formally implemented. Minecraft's path tracing mod was wowing people before Nvidia released its own official RTX patches.
The Witcher 3 is probably the longest-lived RPG currently on the market apart from Skyrim, which has apparently inked a deal with an elder god and will never, ever stop being popular. One interesting long-term effect of COVID-19 may be more companies reaching into their back pockets to refresh games and assets they already have, rather than attempting to create brand-new content from scratch. While developing a game remotely is a challenge in any context, remastering assets you've already got or implementing a ray tracing path may be easier.
Performance expectations are unclear. Generally speaking, the impact of enabling ray tracing is heavy, with frame rates dropping 50-80 percent on modern cards. For a five-year-old game like Witcher 3, this is theoretically less of an issue since older games and assets get a natural performance boost on modern hardware. The question is, just how many next-generation enhancements is CD Projekt Red planning?
This is a particularly smart move on CD Projekt's part due to the upcoming launch of CyberPunk 2077. While the company hasn't given a date for this project's release, it wouldn't be surprising to see it drop right around the time both the Xbox Series X and PlayStation 5 hit market. With relatively few launch games, older titles with visual upgrades may play a more prominent role in both companies' launch plans than we would've anticipated a year ago.
CD Projekt Red's initiative is in contrast to 505 Games' strategy with Control. According to 505, there was no way to offer upgrades to all of its players, and so the only thing it could do was put a new version of the game on-sale so that buyers of that edition will get a free visual upgrade to next-generation assets. The fact that CDPR has pulled off the same feat suggests — but does not prove — that 505 Games could have made a different decision, had it wanted to. If there is some subtlety of distinction between which publishers are "allowed" to offer next-gen upgrades in a straightforward fashion and those required to jump through hoops, we haven't heard an explanation for it yet. We don't know if regular Witcher 3 owners are also getting visual enhancements, but if you own Wild Hunt already, you can expect them for free.
Now Read:
---
Also See:☟
---