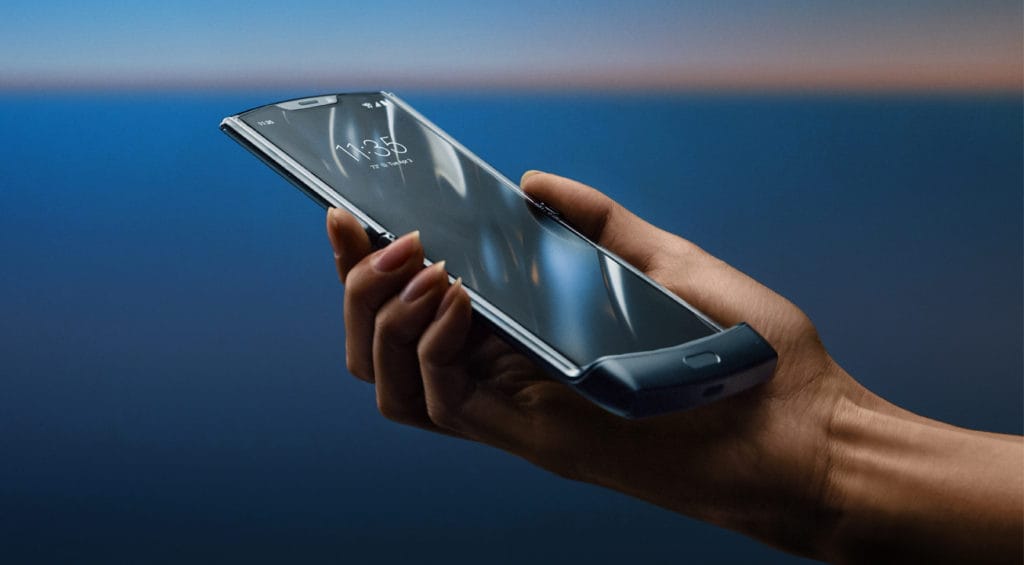 [responsivevoice_button rate="1″ pitch="1.2″ volume="0.8″ voice="US English Female" buttontext="Story in Audio"]
Rumor Points to New Foldable Moto Razr With 5G This Year
This site may earn affiliate commissions from the links on this page. Terms of use.
Motorola was one of the first major smartphone makers to jump on the foldable phone bandwagon by reviving its long-dead Razr brand. The foldable Razr earned points for its slick design, but the specs and durability left something to be desired. The latest out of the rumor mill is that Motorola is planning another foldable Razr to launch this year that will (hopefully) solve many of the first-gen's problems. 
The current Razr device has a large 6.2-inch foldable OLED inside a clamshell form factor. Motorola made a big deal out of the way its custom hinge design bends the display into U-shape when closed. That reduces the appearance of a crease. Although, many owners have found the hardware to be less reliable than it ought to be for $1,500. 
A Motorola executive confirmed last week that a second-gen Razr was on the way, but a separate leak revealed some details of the device. The phone is codenamed "smith" and carries model number XT2071-4. Like the first-gen phone, it will be a clamshell-style folder with a large internal OLED display and a smaller screen on the exterior. The camera array will get a big boost from the 16MP primary and 5MP selfie on the current Razr. Sources peg the new phone as having a 20MP selfie camera and Samsung's 48MP ISOCELL Bright GM1 as the primary. 
The current Razr has a midrange Snapdragon 710 ARM chip, which is much less powerful than you'd expect for the $1,500 asking price. It also sports 6GB of RAM and 128GB of storage. The new Razr should give all those specs a boost with 8GB of RAM, 256GB of storage, and a Snapdragon 765 chip. 
The addition of a Snapdragon 765 means 5G is on the menu for this phone. While the 765 can do millimeter-wave 5G, it's not as fast as the 865 in that respect. It's also unclear whether current millimeter-wave antennas could fit in a folding phone like the Razr. Still, it will at least support sub-6GHz 5G signals via the integrated X52 modem. The first Razr had short battery life with its meager 2,510mAh cell. The new version will reportedly bump that up to about 2,800mAh. However, 5G will consume more power, so it might be a wash. 
The leak doesn't include information about carrier support or pricing, but it's sure to be a spendy phone. Folding phones are still a luxury item, and they will be for some time.
Now read:
---
Also See:☟
---