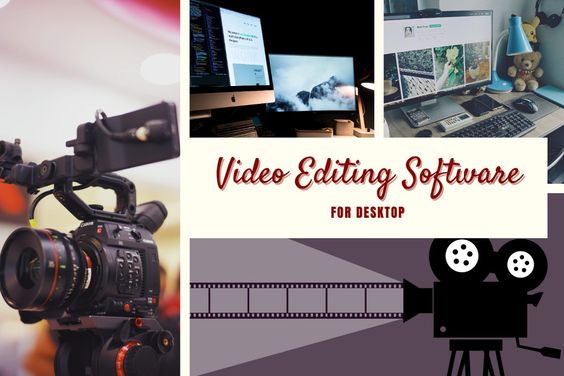 5 Best Free Video Editing Software for 2022
Video Editing Software is used for editing, manipulation, and arrangement of video shots. Video editing is used to structure and present all video information, including films and television shows, video advertisements, and many more. Editing videos can be difficult and boring, so several technologies have been introduced to aid people in this task. The video editing software was developed in order to give people a more fast way to edit video. Video editing can be used to create videos that are then shared on social media. Video editing can be used for many purposes such as education, entertainment, and documentation.
I've mentioned here the best free video editing software list for 2020. In the following part, you'll see our overview of each video editor so that you can pick up the best free video editing software for desktop on your needs.
Types of Video Editing
There are some different types of video editing methods. Video editing is now available for personal computers. Video editing includes cutting segments, rearranging clips, adding photos, adding transitions, and other special effects.
Linear video editing:
This type of editing uses videotape and is edited in a very linear way. Some video clips from different tapes are recorded to one single tape in the order that they will appear.
Non-linear editing:
It allows the video to be edited on computers with specialized software. This process is not destructive to the raw video footage and is done by using programs such as DaVinci Resolve, Avid Media Composer, Adobe Premiere Pro, and Final Cut Pro.
Offline editing:
Offline editing is the process by which raw footage is copied from an original source, without affecting the original film stock or videotape. Once the editing is done, the original media is then re-assembled in the online editing stage.
Online editing:
Online editing is the process of reassembling the edit to a full resolution video after an offline edit has been performed. It is done in the final stage of video production.
Cloud-based editing:
Cloud-based editing is the process of utilizing the internet to work with content remotely, collaboratively, or of a time-critical nature such as editing live sports events in real-time. Cloud-based solution that provides graphic designing through video and film editing, online sharing, audio recording, and more.
Vision mixing:
Vision mixing is used when working within live television and video production environments. A vision mixer is used to cut live feed coming from several cameras in real-time.
Best free video editing software for Desktop
There is so much video editing software available to create promotional videos. The free video editing software for Windows PC has more features than the mobile video editing apps. You can use those free video editing software to generate various engaging videos on different video platforms, such as YouTube, Vimeo, and social media which will help you to create backlinks for your sites and increase Google ranking and revenue as well. If you're looking to edit short videos for your brand and business, check out our list of free video editing software you can use to edit for YouTube, your eCommerce site, social campaign, or other platforms:
Free video editing software for pc
1. OpenShot
The Best simple video editor for beginners.
OpenShot Video Editor is a free and open-source video editor for Linux, macOS, and Windows. OpenShot can create attractive videos, films, and animations with an easy-to-use interface.
OpenShot Features:
1. OpenShot is a cross-platform video editor, with support for Linux, Mac, and Windows.
2. Quickly trim down your videos and find those perfect moments.
3. Using our powerful animation framework, you can fade, slide, bounce, and animate anything in your video project.
4. Add as many layers as you need for watermarks, background videos, audio tracks.
5. Using our video effects engine, remove the background from your video, invert the colors, adjust the brightness.
6. Add beautiful 3D animated titles and effects, such as snow, lens flares, or flying text.
7. Control the power of time, reversing, slowing down, and speeding up video.
Available for: Windows, Mac, and Linux
2. VSDC Free Video Editor
Free Video Editing Software For Windows
VSDC is a free non-linear video editing software for Windows. This software is capable of processing high-resolution footage including 4K UHD, 3D, and VR 360-degree videos, and allows you for applying post-production effects, live color correction, and motion tracking. you can easily apply a picture-in-picture effect, a split-screen effect, make objects change their appearance or position over time during the playback.
Hardware acceleration, multi-color Chroma Key, adjustable parameters settings and enhanced resolution make VSDC a real-time and effort-saving tool allowing for creating large size HD videos in a few minutes.
VSDC Features:
1. Color-correction tools for a more professional look.
2. A large set of trendy video effects, filters, and transitions.
3. Powerful Chroma Key tool to remove a green background.
4. Essential tools like zoom, charts, 360 video editing.
5. Convenient export profiles that make saving videos for various devices a snap.
6. Lowest system requirements possible – VSDC works even on outdated PCs!
Available for: Windows
3. Movie Maker 10
Good free video editing software for Windows.
Movie Maker 10 is the best app to help you make movies from your photos, video clips, and music. It provides basic features such as video joining, adding background music and text caption, to more advanced features like image filter, transition effects, pan-tilt-zoom effects. You can create one movie project to make movies and slideshows, trim video, join video, add background music, and export your project to an output video file.
Movie Maker 10 Features:
1. Make movies from video clips and photos.
2. Trim, rotate, join video clips.
3. Add and edit background music.
4. Overlay text captions, emoticon, still PIP, sound clips on video clips.
5. Adding title slides with text. Add text captions to the photo.
6. Animated pan-zoom for still photo. Photo enhancement filters.
7. Transition effects for photos and videos.
8. HD video quality
Available for: Windows
4. Shotcut
Best open source movie maker software
Shotcut is a free, open-source, cross-platform video editor for Windows, Mac, and Linux. Major features include support for a wide range of formats; no import required meaning native timeline editing; Blackmagic Design support for input and preview monitoring; and resolution support to 4k.
Shotcut Features:
1. Support for the latest audio and video formats thanks to FFmpeg.
2. Webcam capture and Audio capture.
3. Audio scopes: loudness, peak meter, waveform, spectrum analyzer. Volume control & Audio filters
4. Video compositing across video tracks. 3-way (shadows, mids, highlights) color wheels for color correction and grading. Eyedropper tool to pick neutral color for white balancing. Deinterlacing, Auto-rotate, and more.
5. Trimming on source clip player or timeline with ripple option. Easy-to-use cut, copy, and paste operations. Append, insert, overwrite, lift, and ripple delete editing on the timeline
6. Support for 4K resolutions
Available for: Windows, Mac, and Linux
5. Blender
Best video editing software with 3D creation suite
Blender is the free and open-source 3D creation suite. It supports the entirety of the 3D pipeline—modeling, rigging, animation, simulation, rendering, compositing and motion tracking, video editing, and 2D animation pipeline. Blender is cross-platform and runs equally well on Linux, Windows, and Macintosh computers.
Video editing: blender Features:
1. Cycles Render Engine: Stunning ultra-realistic rendering.
2. VFX: Blender includes a production-ready camera and object tracking. Allowing you to import raw footage, track the footage, mask areas, and see the camera movements live in your 3D scene.
3. Animation & Rigging: Blender is being used for numerous short films, advertisements, TV series, and feature films now.
4. Story Art, Drawing 2D in 3D: Combine 2D with 3D right in the viewport. Full Animation Support with Onion Skinning. Layers & Colors for Stroke and Fill
Available for: Windows, Mac, and Linux
---
Also See:☟
---