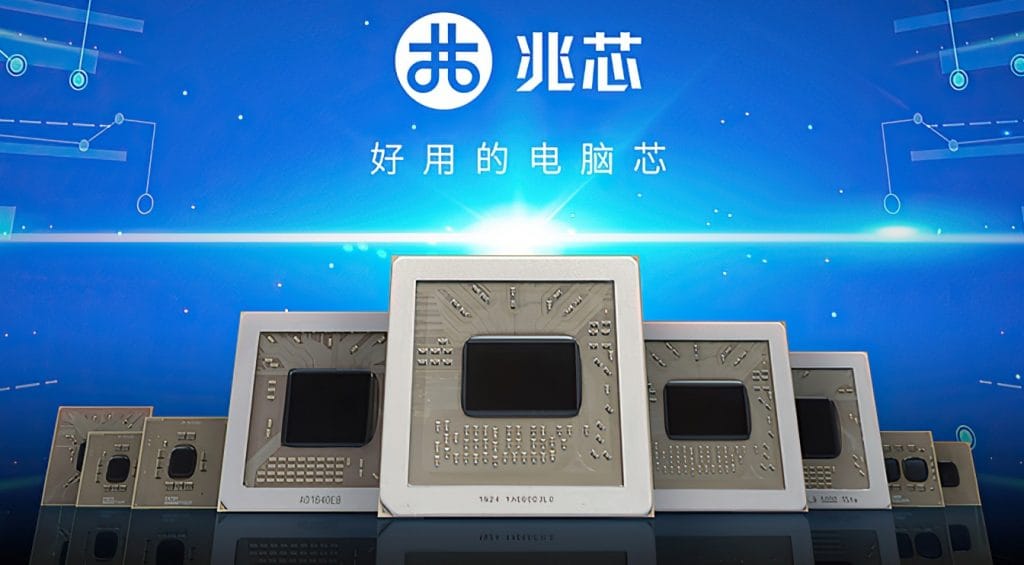 [responsivevoice_button rate="1″ pitch="1.2″ volume="0.8″ voice="US English Female" buttontext="Story in Audio"]
Chinese x86 Manufacturer Zhaoxin Prepping Discrete GPUs for Launch
This site may earn affiliate commissions from the links on this page. Terms of use.
We've discussed the x86 CPU manufacturer Zhaoxin multiple times at ET, always with reference to the company's CPUs and efforts to enter the mainstream x86 market, at least in China. Now, there's evidence that the firm intends to produce its own graphics card as well.
This information was initially posted to CNTechPost, hat-tip to THG for picking it up. The slide posted to Zhaoxin's own website and later apparently removed didn't give a lot of information, but here's what we've got:
According to CNTechPost, "Zhaoxin will launch products for laptops and Pad this year, targeting portable devices. Zhaoxin will also launch a multi-core server offering that is on par with Intel's mid- to high-end offerings."
"Pad" presumably means tablet, in this context, and we wouldn't be too surprised to see some kind of low-power devices from the company. Zhaoxin's IP is derived from Via, and low-power products were always the bread and butter of Via's hardware division. The company that invented the mini-ITX standard has an obvious interest in building compact equipment.
The idea that Zhaoxin is going to launch a multi-core server offering on par with Intel's mid-to-high-end chips? No. No, it isn't. Reviews of the Zhaoxin KX-U6780A showed that the 8C/8T CPU was behind every single chip it was compared against, including CPUs like the Carrizo-derived A10-9700. The chip fared slightly better in gaming tests when equipped with an RTX 2080 Ti, but it still basically tied things up with the A10-9700 in that case as well.
When your eight-core CPU struggles against a Core i3, you aren't going to build a server part to compete with Intel's mid-to-high-end offerings this year.
As far as the GPU is concerned, all we know is that this is a 70W card built at TSMC, with no details on graphics core or underlying technology. At one point, Via owned S3 Graphics and used technology derived from that GPU family in its own chipsets. S3, however, never had the strongest reputation compared with 3dfx, ATI, or Nvidia — "I'll buy you an S3 card for Christmas" was more of a threat than a hoped-for promise. HTC, however, bought a majority of the S3 patents and graphics IP from Via back in 2012.
It's possible that this GPU is designed using remaining patents that Via still has, or that it cut a deal with HTC to get access to the portfolio. Of course, the Chinese company could have a patent license agreement with AMD, Nvidia, or Intel to cover aspects of GPU design. While a great deal of US – China semiconductor cooperation is being closely examined for national security issues, a low-end GPU built using technology that was new eight years ago is unlikely to trigger any alarms.
At 70W, the GPU is sized to fit inside the PCIe specification's standard for onboard power delivery, with no need for an external power connector. The PCIe standard specifies up to 75W of power can be delivered by the slot itself, without any need to draw from additional six-pin or eight-pin connectors.
This new push by Zhaoxin seems calibrated to make certain China has hardware it can use to build home-grown systems in the event of a further trade breakdown between itself and the United States. Zhaoxin's CPUs don't compare with what Intel and AMD can field, but they're fast enough to be used for light processing and desktop tasks, and that's significantly more than China could claim for its own CPU efforts only a few years ago. Efforts to peer inside the KX-U6780A's GPU largely came to naught, so we're still in the dark about what the integrated GPUs capabilities are, or whether this is just a scaled-up version of that solution.
Now Read:
---
Also See:☟
---