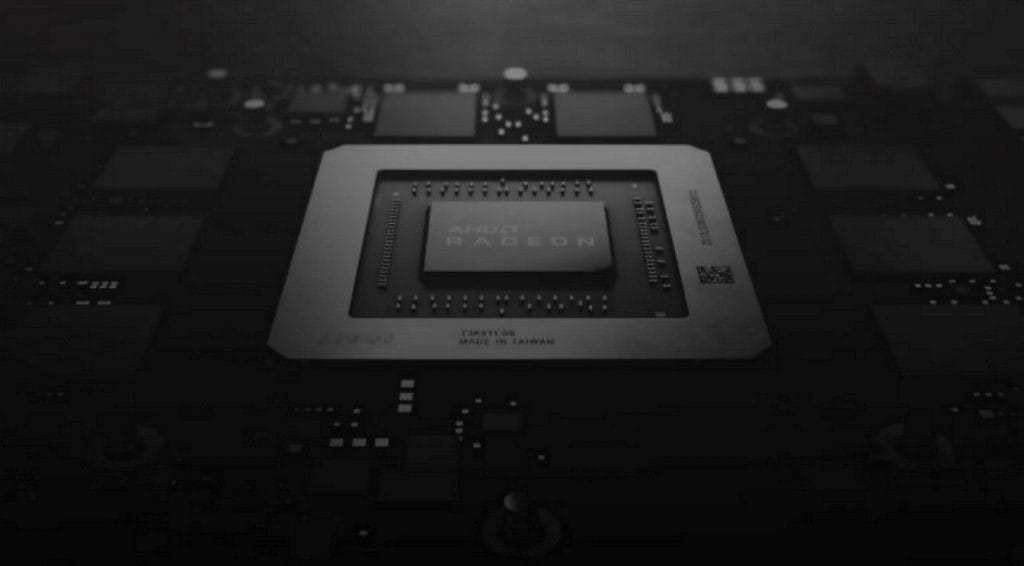 [responsivevoice_button rate="1″ pitch="1.2″ volume="0.8″ voice="US English Female" buttontext="Story in Audio"]
AMD RDNA2 Launches Oct 28, But How Will It Respond to Nvidia's Ampere?
This site may earn affiliate commissions from the links on this page. Terms of use.
AMD has just announced major events on Oct 8 and October 28, focused on Zen 3 and RDNA2, respectively. While the PC market has been pretty quiet as far as new launches lately, that's about to change with hardware refresh cycles for consoles, gaming PCs, and Intel's mobile Tiger Lake all coming in the last few months of the year.
Join us on October 8 and October 28 to learn more about the big things on the horizon for PC gaming. pic.twitter.com/9dy8Lt5MP8

— AMD Gaming (@AMDGaming) September 9, 2020
Nvidia hasn't launched Ampere yet, but one thing is obvious: The existing GPU price structure isn't long for this world. The RTX 3080, which delivers (according to Nvidia) significantly better performance than the RTX 2080 Ti, will be debuting at $700. Up until now, the RTX 2080 Ti has been $1,200. We may not have the cards yet, but you don't have to be a prophet to see the writing on the wall: We're about to see the GPU product stack give itself a good shake.
But this raises questions as well about what's ahead for AMD. Nvidia effectively rolled out 2x more GPU cores than anyone was expecting, and while there are always questions about how efficiently GPU cores are used — you can't just compare across product families and assume more is better in a predictable fashion — there's little doubt that Nvidia built a lot of "more" into this GPU.
AMD's upcoming RDNA2 GPUs are expected to top out at 80 CUs, 2x the size of the original RDNA. At 40 CUs (2560 cores), the 5700 XT was modestly faster than the original RTX 2070 (2304 cores). The Radeon also had clocks a bit higher than the Turing chip, but the gaps aren't all that large. An 80 CU chip would give AMD 5,120 GPU cores, but that'll be behind the RTX 3070 at 5888:184:64.
Does this mean AMD is screwed? No, but the competitive situation looks like it'll be pretty tough. A literally doubled RDNA2 chip would be a 5120:320:128 configuration, which would represent a dramatic variation in GPU capabilities relative to Nvidia, which would have far more cores but lower texel and pixel-per-clock throughputs. AMD and Nvidia were roughly tied for power efficiency with RDNA2 versus Turing, but Nvidia is claiming a 1.9x increase in performance-per-watt versus RDNA2, which has claimed a 1.5x improvement. This implies that Nvidia may lead on power efficiency, though you should wait for vendor figures before concluding it.
The PlayStation 5's relatively high clock speeds may indicate higher cores for RDNA2. If the chip could move its sustained, effective clock from, say, 1.8GHz on the 5700 XT to 2.2GHz on Big Navi, it'd pick up another 1.22x performance and clock substantially above expected targets for Nvidia. That could help balance the core count discrepancy.
"They [AMD] want to release the 16GB at $599 and the 8GB at $499 but after the Ampere announcement I'm expecting $549 for the 16GB and $499 for the 8GB. We're receiving the ASIC (GPU+MEM) this month [September]" – AMD partner pic.twitter.com/tLd6Fe36Or

— coreteks (@coreteks) September 4, 2020
This implies that AMD isn't worried about its ability to compete so much as its intended launch price. Bringing 16GB of VRAM to market where Nvidia is offering sharply less (8-10GB) gives AMD a differentiator. It's possible that this generation is going to be a repeat of the last one, where RDNA competed very effectively against Turing in its price bracket.
Of course, given that Nvidia pulled a rabbit out of its own hat, it's possible RDNA2 will as well. Either way, we should see a better competitive situation in 2020 than we had to work with when Turing debuted in 2018.
Now Read:
---
Also See:☟
---