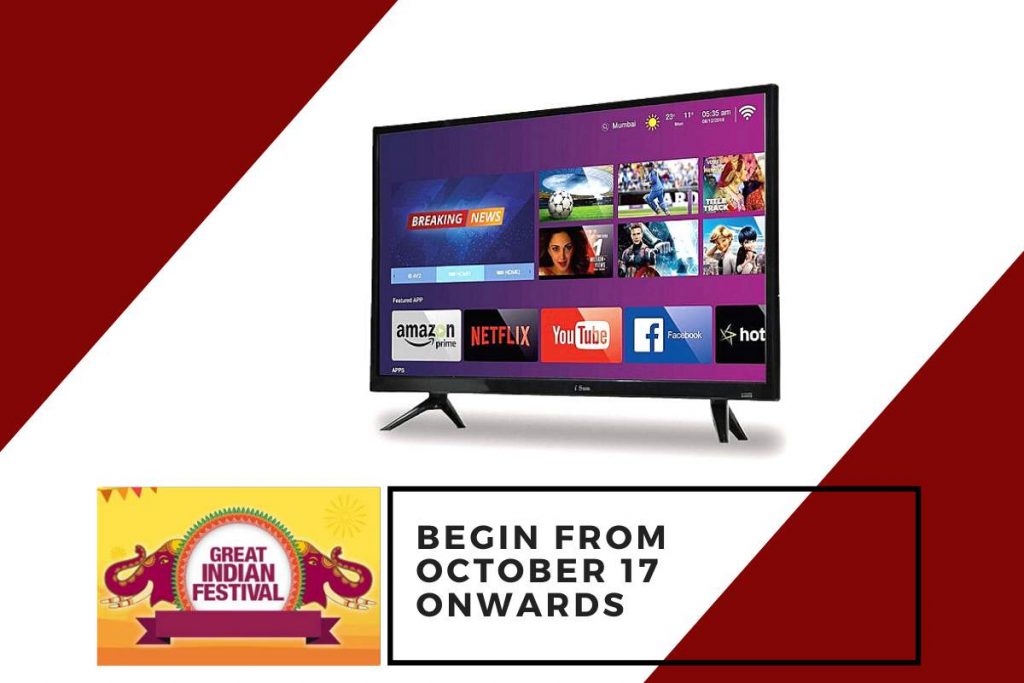 Amazon Great Indian Festival sale: Best smart TV you can buy
Amazon will begin its Great Indian Festival sale on October 17 for non-Prime members and a day early for Prime members. During the sale, you will be able to purchase many products at discounts and with some other offers as well. This is a big chance for people who are looking to purchase a Smart TV to get one at a lower price. Here is a list of the best deals on Smart TVs that will be available during the Amazon Great Indian Festival sale which have a discounted rate for the upcoming sale.
What is Smart TV?
Smart TVs allow you to stream digital content or watch your favorite shows, explore the Internet & access your favorite apps. Shop for Smart TVs from top brands like Samsung, Sony, LG, TCL, Micromax, Sanyo, BPL, and many others at the best prices during the Amazon Great Indian Festival sale. Make sure your smart TV supports media streaming apps like Hotstar, Amazon, Netflix, and others. A good choice would be a Samsung smart TV. With most smart TVs featuring pre-loaded apps, your work is almost done!
A few things you should keep in mind while buying a Smart TV. The band name is most important while you buy a smart TV. Make sure that you see the ratings and reviews of brands that are new in the market. Screen size & resolution of your smart TV are also important things to take into consideration. Your TV should be larger than 40 inches if you are investing in a 4K TV. You will be able to see the magic of 4K on a TV larger than 40 inches. Otherwise, it would be a waste of money.
Get Amazon Best Sale Items
Samsung 80 cm (32 Inches) Wondertainment Series HD Ready LED Smart TV UA32T4340AKXXL (Glossy Black) (2020 Model)
M.R.P.: ₹ 19,900.00
Deal of the Day: ₹ 14,990.00
Resolution: HD Ready (1366×768) | Refresh Rate: 60 hertz
Connectivity: 2 HDMI ports to connect a set-top box, Blu Ray players, gaming console | 1 USB ports to connect hard drives and other USB devices
Sound: 20 Watts Output | Dolby Digital Plus
TV Features: Personal Computer | Screen Share | Music System | Content Guide | Connect Share Movie
Display : LED Panel | Mega Contrast | PurColor | HD Picture Quality | Slim & Stylish Design
Amazon Cashback Offer
Mi TV 4A PRO 108 cm (43 Inches) Full HD Android LED TV (Black) | With Data Saver
M.R.P.: ₹ 25,999.00
Deal of the Day: ₹ 22,499.00
Resolution : Full HD (1920×1080) | Refresh Rate: 60 hertz
Connectivity: 3 HDMI ports to connect a set-top box, Blu Ray players, gaming console | 3 USB ports to connect hard drives and other USB devices
Sound: 20 Watts Output | DTS-HD sound
TV Features: Built-In Wi-Fi | PatchWall | Netflix | Prime Video | Disney+Hotstar and more | Android TV 9.0 | Google Assistant | Data Saver
Display: LED Panel | Vivid Picture engine
Amazon Best Deals Today
LG 80 cm (32 inches) HD Ready Smart LED TV 32LM563BPTC (Dark Iron Gray) (2020 Model)
M.R.P.: ₹ 21,990.00
Deal of the Day: ₹ 14,990.00
Resolution: HD Ready (1366×768) | Refresh Rate: 50 hertz
Connectivity: 2 HDMI ports to connect set top box, Blu Ray players, gaming console | 1 USB ports to connect hard drives and other USB devices
Sound output: 10 Watts Output I 2 Speakers | DTS Virtual:X | Sound Type : Down Firing
TV Features: Web OS Smart TV | Wi-Fi | Home Dashboard | Screen Mirroring | Mini TV Browser | Multi-Tasking | Office 365
Display: Active HDR | Display Type: Flat | BackLight Module: Slim LED
Sony Bravia 108 cm (43 inches) Full HD Smart LED TV KDL-43W6603 (Black) (2020 Model)
M.R.P.: ₹ 44,990.00
Deal of the Day: ₹ 34,990.00
Resolution: Full HD (1920×1080) | HDR
Connectivity: 2 HDMI ports to connect set top box, Blu Ray players, gaming console | 2 USB ports to connect hard drives and other USB devices
Sound output: 20 Watts Output | Open Baffle Speaker | ClearAudio+ technology | TV MusicBox
TV Features: Smart TV | Screen Mirroring | Netflix | Amazon Prime Video | HDR Gaming
Display: HDR | X-Reality Pro | Motionflow XR 100
---
Also See:☟
---