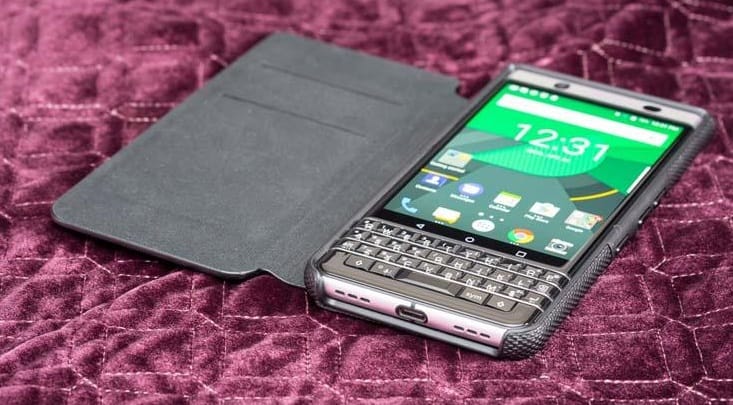 [responsivevoice_button rate="1″ pitch="1.2″ volume="0.8″ voice="US English Female" buttontext="Story in Audio"]
A New BlackBerry Keyboard Phone Is On the Way
This site may earn affiliate commissions from the links on this page. Terms of use.
BlackBerry used to dominate the "smartphone" market back when those devices were not really very smart. The Canadian company never adapted to a post-iPhone world, and even switching to Android didn't help. Earlier this year, TCL announced it was ending its agreement to build BlackBerry Android phones. It's not over for keyboarded phones — BlackBerry has forged a deal with a company called OnwardMobility to build a new generation of devices. 
BlackBerry (previously known as RIM) became a force in mobile on the strength of its messaging platform and other mobile services. However, the BlackBerry OS couldn't compete with iOS and Android as smartphones shifted to a touch-based interface. Oh, it tried to keep pace with devices like the BlackBerry Storm, but it eventually admitted defeat and started making Android phones, most of which had keyboards. Even that didn't work to boost the company and it resorted to licensing the name and technology instead of building phones itself. 
Currently, no one is making BlackBerry smartphones. The last major release was the BlackBerry Key2, which TCL launched in 2018. TCL only made a handful of phones for BlackBerry before backing away, confirming once again that most people don't want physical keyboards on phones. Still, "most" isn't everyone. OnwardMobility apparently feels that there is a market for a new generation of BlackBerry devices with keyboards and 5G. 
OnwardMobility tells PCMag that the new BlackBerry phone will be a "global flagship" with a competitive price and a "top-end camera." However, the device will have sub-6GHz and millimeter-wave 5G, and the latter is rarely compatible with a competitive price. Millimeter-wave 5G is also a big plus for US carriers, and the company says it's working to get the planned device in US carriers stores. That's easier said than done, though. TCL had years of experience working with carriers, and retail availability of its BlackBerry phones was spotty at best. OnwardMobility is a new company coming into a crowded mobile ecosystem. 
This new BlackBerry phone should launch in early 2021, and that means OnwardMobility must be well into the development process. It will use FIH, a Foxconn subsidiary, for manufacturing. With BlackBerry's technology and patents, it should be able to make a phone with a keyboard that harkens back to the early era of smartphones, but is there still enough interest in that? We'll find out. 
Now read:
---
Also See:☟
---