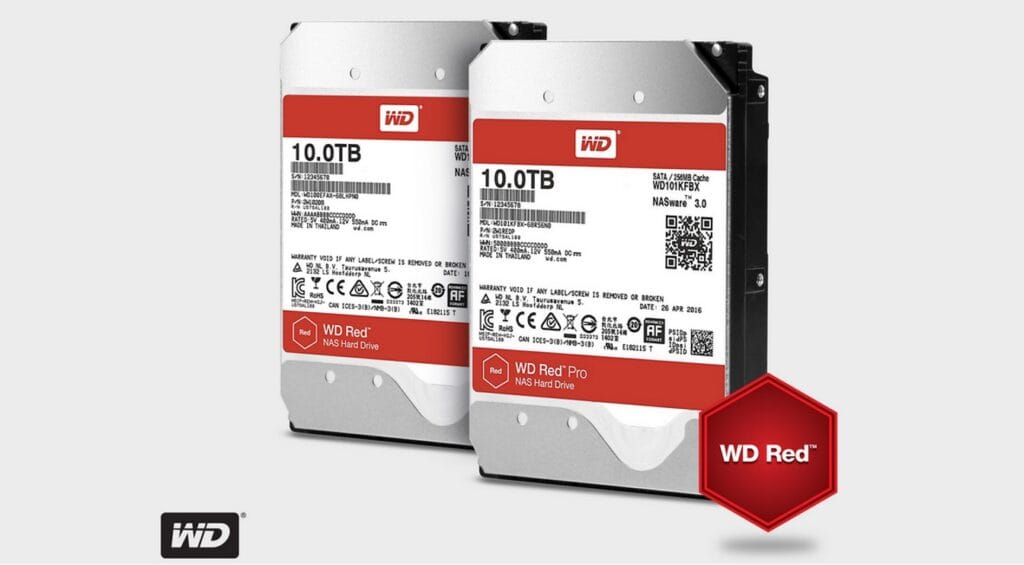 [responsivevoice_button rate="1″ pitch="1.2″ volume="0.8″ voice="US English Female" buttontext="Story in Audio"]
Western Digital Sued to Permanently Block SMR in NAS HDDs
This site may earn affiliate commissions from the links on this page. Terms of use.
Western Digital continues to face fallout for its decision to ship shingled magnetic recording (SMR) HDDs in NAS products. The law firm suing the company has updated its filing to add significant technical data and is not requesting a huge payday for itself. Instead, the plaintiffs ask that Western Digital be forbidden from advertising SMR drives as being suitable for NAS applications.
If you haven't been following the story, we'll summarize it below:
Conventional hard drives use CMR (Conventional Magnetic Recording). They write data to magnetic tracks and read information off those tracks using a drive head. CMR drives lay each track down independently, with guard banding on either side. In SMR drives, the tracks are laid down in partly overlapping fashion.
This method of overlapping data allows for higher density per HDD platter, theoretically allowing for fewer platters and saving the drive manufacturer some money. The performance trade-offs, however, are significant, particularly in certain types of write workloads.
The problem with putting SMR drives in a NAS is that they're terrible at it. While performance is acceptable (if slow) in some common use-cases, there are other real-world scenarios that SMR drives simply cannot handle.
SMR drives don't perform writes the same way an HDD does — they actually go through a program/erase cycle more akin to an SSD, because "shingling" the tracks makes it impossible to write to just one track at a time. The drive head has to read the data off an entire block of the hard drive before writing the block back to disk with its now-modified contents. This requirement is why SMR drives are unsuited to certain kinds of work.
A month ago, end-users discovered WD was putting SMR drives in its WD Red product family. Red is specifically intended for NAS applications and Western Digital advertises the drive as suitable for consumer and commercial deployment. There's a lawsuit against the company for this, based on the fact that CMR and SMR drives cannot be deployed in some RAID arrays side-by-side, and that WD is selling these drives into products that cannot use them properly.
The plaintiffs in the case are not alleging that the SMR drives are defective, but that Western Digital has engaged in false advertising by selling these products for uses they cannot materially fulfill. This is not in question: It's been factually demonstrated that file systems like ZFS and certain types of RAID configurations are incompatible with SMR.
The plaintiffs and their lawyers are not seeking cash damages. What they want is a ruling declaring Western Digital cannot advertise SMR drives as being suitable for NAS systems when they very much are not. The updates to the original complaint add the stories of the five additional plaintiffs joining the suit and provide additional technical detail on how SMR drives are unsuited to the same workloads as CMR drives. The argument in play is that Western Digital violated the California Consumers Legal Remedies Act, Consumer Protection Statute, False Advertising Law, and Unfair Competition Law.
In a separate story, ServeTheHome has uncovered evidence that WD was specifically aware that its SMR drives wouldn't run properly with the ZFS file system. How do we know? Well, an HGST engineer gave a presentation at OpenZFS in 2015 noting that Drive Managed SMR (which is what WD uses) and ZFS were a fundamentally poor fit. Given that HGST is a subsidiary of Western Digital, it's clear that at least some of the company's employees were aware of potential problems five years ago. ServeTheHome has more details on these points.
Western Digital's Unacceptable Silence
Western Digital has stayed silent on this issue for months, now. While the company did post a list of which of its drives were SMR and which were CMR, it continues to ship SMR drives as drop-in replacements for scenarios they are demonstrably unable to fulfill. The company has not changed its messaging and it hasn't changed its products.
There's a real problem here. Western Digital advertises Red as the NAS line. It does not advertise Red as "The hard drive family where some of our drives are universally compatible, and some of them aren't!"
Probably a good thing, that.
If you must use WD Red, look for the EFRX family of hard drives — these are the CMR products. If you know that your NAS is compatible with SMR products, by all means, feel free to use them. But if Western Digital doesn't take some kind of action to more meaningfully clean up these problems, I wouldn't continue to buy the company's products. Further investigation has shown that WD has actually been stealth-shipping drives like this since at least 2018, and the company's end-users have been trying to explain that this is a serious problem for at least that long.
I would not consider an SMR drive in a RAID array unless you have a specific reason to believe the drive will function properly. The price difference between the CMR and SMR drives is not big enough to make the headache worth it.
Now Read:
---
Also See:☟
---