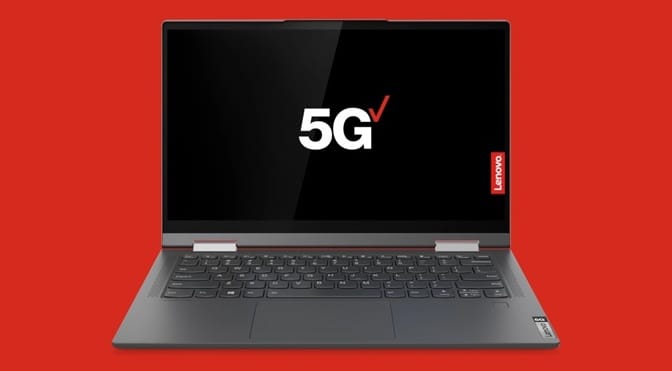 [responsivevoice_button rate="1″ pitch="1.2″ volume="0.8″ voice="US English Female" buttontext="Story in Audio"]
Verizon's Lenovo Flex 5G Is the First Windows 10 PC With 5G Connectivity
This site may earn affiliate commissions from the links on this page. Terms of use.
Verizon has been pushing its millimeter-wave 5G for over a year now, but the multi-gigabit speeds possible with this network is of limited usefulness on a smartphone. A computer, though? You might actually want to use 5G on that, and Verizon has one to sell you now. The Lenovo Flex 5G is the company's first 5G laptop. 
On the surface, the Flex 5G looks like any number of Lenovo's Flex-branded laptops. Some of these Lenovo laptops run Chrome OS, but most are Windows 10 like the Flex 5G. It looks almost identical to those laptops, too. The Flex 5G has a 14-inch 1080p display, two USB-C ports, a 3.5mm headphone jack, and a 360-degree convertible hinge. 
Intel doesn't have much in the way of 5G integration right now. So, Lenovo built the Flex 5G on the Qualcomm 8cx chip. Announced in late 2018, the 8cx was Qualcomm's first chip designed specifically for laptops. It has a lot in common with the Snapdragon 850 with four high-power cores, and four low-power cores. The CPU cores, GPU, and other components of the system-on-a-chip (SoC) are all more powerful than what you get in smartphone chips. 
ARM-based Windows PCs are still rare because they can't run all the same software as an x86 system. You'll have the best experience with programs compiled for ARM. These run natively and should have the best battery life. 32-bit Windows programs will also run, although these rely on emulation. That means the performance won't be ideal. You can't run 64-bit programs at all on Windows with an ARM processor. This is just a sacrifice you have to make if you want a 5G-enabled Windows laptop rated for up to 24 hours of battery life. 
Here's the first 5G speed test on the new @Lenovo Flex 5G, coming to @Verizon on June 18. Big props to Lenovo and @Qualcomm for designing a 2-in-1 laptop that consistently cracks 2Gbps when on 5G Ultra Wideband. pic.twitter.com/aCqzo1GAed

— George Koroneos 🗿🍹 (@GLKCreative) June 16, 2020
The Flex 5G has support for Verizon's millimeter-wave 5G network, which had poor coverage but very high speeds. You need to be close to the 5G cell site with no obstructions, which currently means outdoors or in select stadiums with indoor 5G networks. The laptop also has support for Verizon's upcoming sub-6 5G frequencies, which will have slower speeds but vastly improved range. That won't begin rolling out until later this year, though. 
If you want to pick up the Flex 5G, Verizon will have them in stores Friday for $1,399. You can also buy it like a smartphone with a monthly payment plan — $58.33 for 24 months.
Now read:
---
Also See:☟
---