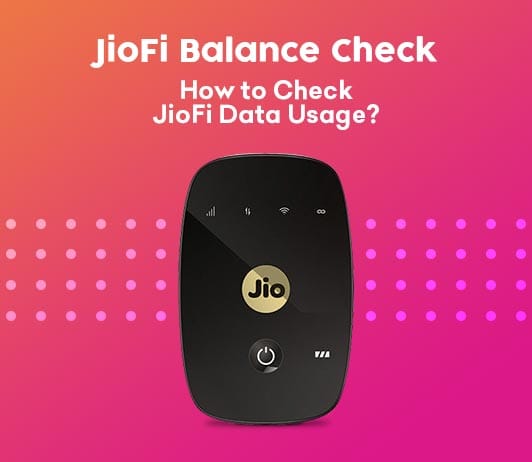 How to Check JioFi Data Usage through the JioFi Website?
What is JioFi?
JioFi is a portable broadband device brought to you by Reliance Digital. JioFi device allows multiple users and mobile devices to access Jio's 4G high-speed internet connectivity and create a personal Wi-Fi hotspot. JioFi device can connect a minimum of 10 devices + 1 USB connection, with some models having the ability to support many more connections.
Step 1
Follow these steps for your JioFi balance check or to look at your JioFi data usage.
Open the Jio website and click on the 'Sign In' option on the top-right to check your JioFi data usage.
Step 2
Log into your Jio account using a password or OTP.
Step 3
After logging in, you will see your Reliance Jio balance on top. Scroll down to check the Jio plan validity.
Step 4
Click on the 'My Plans' option. At the bottom, you will see the date of the expiry of your Jio plan.
In the 'My Statement' option, you can generate a statement of all your data consumption.
How to Check JioFi Data Usage through the JioFi App?
JioFi Data Usage Check Step 1
Download the 'MyJio' app from play store. Then open the app and log in using a password or SIM verification for JioFi balance check.
JioFi Data Usage Check Step 2
Select 'Check usage' from the homepage and tap on the category – Voice, Data, SMS, WiFi for which you wish to check usage
JioFi Data Usage Check Step 3
You will get details of your recent usage transactions in the MyJio app.
What is the cost of the JioFi device?
The cost of the JioFi device is Rs.1999/-
Where can I buy a JioFi device?
JioFi device is available at all Reliance Digital stores, Dx Mini Stores, and jio.com website. Also, you can buy the device from Amazon Or Flipkart.
Can I access MyJio app even when I have no data balance left?
You can access MyJio from a Jio data network, even when you have exhausted your data. Your Jio data will not be charged for using MyJio.
Will the Jio SIM obtained JioFi work on other mobile devices also?
Post successful verification and activation of the SIM, you have the option to use the same SIM in any other compatible 4G LTE device.
I forgot my JioFi number. How to know my JioFi number?
Follow the steps below to know your JioFi number –
Option 1: Using MyJio App
Open MyJio App and login with your Jio ID & Password. View your Jio Number at the top of the screen
Option 2: By sending SMS
SMS Jio to 199 from any Jio number
Note: If you wish to send SMS from any Non-Jio number, send the SMS to 7021799999
You will receive an SMS with the Jio number associated with the specified IMEI
Example:
SMS Jio 123456789123456 to 199 or 7021799999
Note: To see your JioFi IMEI number, open the battery compartment, and remove the battery. Or, you can also find the same on the original JioFi box.
---
Also See:☟
---