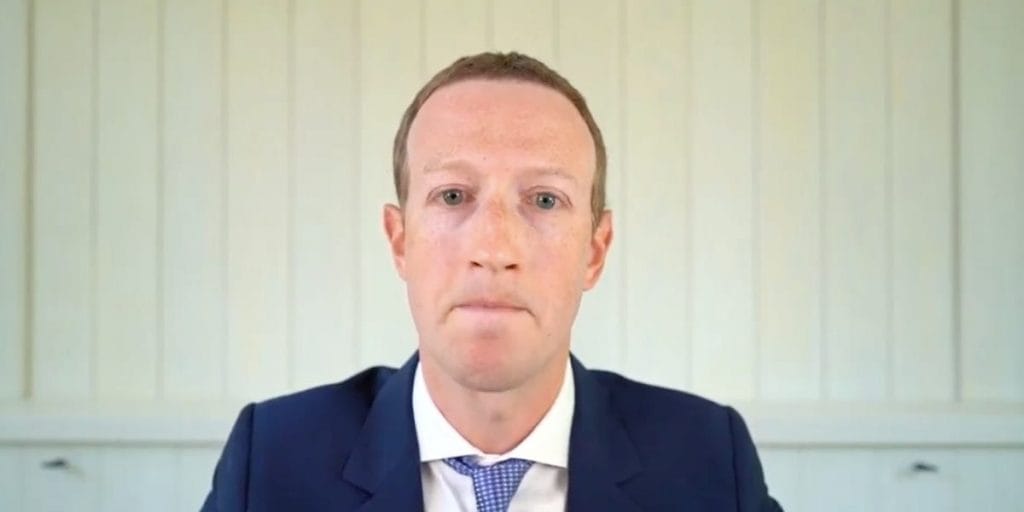 [responsivevoice_button rate="1″ pitch="1.2″ volume="0.8″ voice="US English Female" buttontext="Story in Audio"]
Facebook cracks down on QAnon, after it reached millions of people
Facebook announced Wednesday it was taking down pages and accounts that promote QAnon, a conspiracy theory with a growing number of followers.
An estimate published by the Guardian said QAnon pages on the social media platform had 4.5 million followers.
After sporadic moves to limit QAnon's spread, Wednesday's move is the company's most significant to date.
Visit Business Insider's homepage for more stories.
Facebook is finally cracking down on QAnon, a baseless conspiracy theory that accuses prominent politicians of links to pedophilia and has been linked to violence.
For huge numbers of people, it may be too late.
Over the past few months, QAnon content has run rampant on Facebook, reaching millions of people and growing rapidly as the pandemic fueled paranoia and enflamed distrust of the government. Numerous analyses over the past weeks and months have shown how Facebook has provided QAnon adherents an extraordinary platform to spread their virulent and fact-free narrative — illustrating how Facebook is still struggling to police dangerous misinformation on its social network four years after its widely publicized failures in the 2016 US election.
On Wednesday, Facebook announced that it was taking down a swath of pages and accounts promoting QAnon, while also updating its policies to slow the spread of content from pages that it is leaving up. 
"Today we are expanding our Dangerous Individuals and Organizations policy to address organizations and movements that have demonstrated significant risks to public safety but do not meet the rigorous criteria to be designated as a dangerous organization and banned from having any presence on our platform," the company wrote in a blog post.
Qanon followed the discredited Pizzagate conspiracy theory, which falsely accused senior Democratic politicians of being part of a secret pedophile ring. An unknown figure known as "Q", who claims to be a senior intelligence official, posts "drops" of bogus information about political elites' secret child-trafficking agendas and US President Donald Trump's purported fight against them. The FBI has warned that it poses a potential domestic terrorism threat.
It has grown in popularity and attention over the last few years, spreading through Facebook's groups and pages to sweep up millions of people. 
Several recent attempts to quantify its size and growth illustrate the current pervasiveness of the conspiracy theory.
An investigation by The Guardian earlier in August found that 170 prominent QAnon pages had a combined 4.5 million followers across Facebook and Instagram and were growing fast, with "dedicated communities for QAnon followers in at least 15 countries on Facebook."
This vast reach was confirmed by internal documents from Facebook obtained by NBC News. The company's own internal research reportedly found that "the top 10 groups … collectively contain more than 1 million members, with totals from more top groups and pages pushing the number of members and followers past 3 million."
And an analysis conducted by social media research firm Storyful detailed in a Wall Street Journal report found that "membership in 10 large public QAnon Facebook groups swelled by nearly 600% from March through July, to about 40,000 from about 6,000."
Facebook has previously taken sporadic action against the movement, banning a 200,000-strong group in early August, but its announcement on Wednesday is its most significant to date. 
It says it has removed 790 groups, 100 pages, and 1,500 ads, and added new restrictions to an additional 1,950 groups, 440 Facebook pages, and 10,000 Instagram accounts.
The social networking giant is also trying to prevent the ability to boost the popularity of pages and groups it is allowing to remain, stopping the promoting of them in recommendations via algorithms, reducing QAnon content's prominence in the newsfeed and search, and blocking its followers' access to tools like ads and fundraising.
This crackdown may help to slow QAnon's spread — but it comes only after it has already found a vast audience through the social network. 
In the 2016 election, Facebook's failures to police its platform led to Russia utilizing the social network to spread political misinformation to sow division during the election and boost Donald Trump. There's no suggestion that Russia is behind the recent QAnon surge — though it has promoted it online in the past — but its growth shows that Facebook still faces significant difficulties with policing its own services.
Do you work at Facebook? Contact Business Insider reporter Rob Price via encrypted messaging app Signal (+1 650-636-6268), encrypted email (robaeprice@protonmail.com), standard email (rprice@businessinsider.com), Telegram/Wickr/WeChat (robaeprice), or Twitter DM (@robaeprice). We can keep sources anonymous. Use a non-work device to reach out. PR pitches by standard email only, please.
---
Also See:☟
---