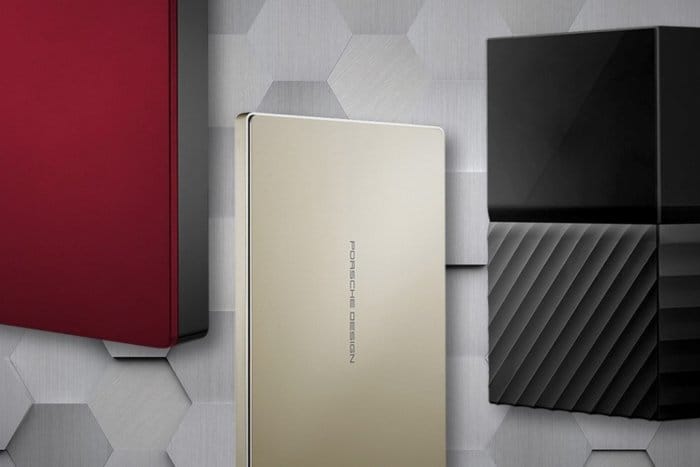 [responsivevoice_button rate="1″ pitch="1.2″ volume="0.8″ voice="US English Female" buttontext="Story in Audio"]
Best external drives 2020: Reviews and buying advice
Anyone who uses a PC should have an external drive. It's both a useful means of data backup and storage, and a way to transport files from your desktop or laptop to another device. Xbox One X users, as well, would be wise to invest in an external drive as a way of augmenting the console's measly 1TB hard drive (the external drive needs to be USB 3.0-compatible and will be formatted when you insert the drive). 
Two things are for sure: No one ever said they wanted less storage space, and no one ever said they wanted a slower drive. Our latest top picks for best external performance drive (SanDisk's Extreme Pro Portable and Samsung's T7) are blazing-fast, great news if you're moving around large amounts of data. If backup or connectivity are your priorities, we'll also walk you through our other top picks, and everything you need to know to buy the best external drive for your needs.
And while we're talking about storage drives, know how to monitor the health of your hard drives—the preservation of your precious data depends on it.
The best external drives 2020
Best external backup drive
Our pick for best portable external backup drive for 2020 is Western Digital's My Passport 5TB driveRemove non-product link. Why? Well, you can never have enough, can you? Sure, the 4TB version is actually a tick lower in cost-per-terabyte, but that extra space can be invaluable if it allows you to jam all your valuable files onto this drive before gently placing it in a safe. After all, they don't call it bulk storage for nothing. (Read our full review of the WD My Passport.)
Runner-up
Our runner-up for this popular category is Seagate's Backup Plus Portable. Like the WD above, it's a USB 3.1 Gen 1 (5Gbps) drive. It tops out at 5TB in a single drive and can also be had in 1TB, 2TB, and 4TB capacities. There's even a "fast" 4TB version that uses two hard drives in RAID for more performance.
In our tests of the 4TB version, we found the Seagate to be slightly faster with large file transfers (think movies) but worse with small file transfers (think Office documents). It's still a worthy runner-up, though. (Read our full review of Seagate's Backup Plus Portable.)
Best performance USB drive
This is the one: SanDisk's Extreme Pro Portable SSD (1TB) is the fastest USB 3.1 Gen 2 external SSD we've seen to date. Burst performance is roughly on a par with the runner-up Samsung T7's, but it blows that drive out of the water during long writes.
SanDisk's drive doesn't offer the T7's handy and fun fingerprint security, but it's about the same price and offers software-based password protection if security is a concern. Read our full review. 
Runner-up
Samsung's Portable SSD T7 Touch runs a close second to the SanDisk Extreme Pro Portable. Compared to its predecessor the T5 (which will still be available) it's thinner, a significantly faster reader, and it also sports a fingerprint scanner.
Sure, you could get an official FIPS-certified secure drive, but those cost far more than the T7, which gives you this extra bit of security while remaining within the price range (currently $130 on Amazon for the 500GB model we tested) of a normal USB SSD. That makes it a sweet deal for the average user who still wants effective data protection. Read our full review.
Best portable Thunderbolt 3 drive
Portable Thunderbolt 3 drives have been long overdue, but we're happy to recommend Samsung's new Portable SSD X5. Let's just say it's stupidly fast and kinda like putting a scorching Samsung 970 Pro in an enclosure that fits in your pocket and not giving up much performance at all.
Notice that we don't say "best portable performance Thunderbolt 3 drive," because by very definition, a Thunderbolt 3 drive should be blazingly fast. The only reason we're not universally recommending the Portable SSD X5 is the relative rarity of Thunderbolt 3 ports on PCs. You'd need to be driving a brand-new Dell XPS 13 or HP Spectre x360 13 to be able to use Thunderbolt 3. (See the full review of the Portable SSD X5 on our sister site Macworld.)
What you need to know before you buy
Capacity and price
External-drive shopping can pull you deep into specs and features, but the most important two numbers for most consumers are capacity and price. Many assume the lowest-cost drive gets you the most value, but it often doesn't. In fact, dollar for dollar, it's often the worst deal.
For example, we took the WD Black My Passport portable drive and compared the prices of the 1TB, 2TB, 4TB, and 5TB drive, on capacity and price. Keep in mind, this is one drive on one day (Oct. 10, 2017), and just one vendor, Amazon, but it illustrates the point.
If you look at the chart above, you can see the worst deal is that $60 1TB HDD, while the 4TB nets the most storage capacity for the money. In fact, the price of the 1TB hard drive has actually increased slightly from earlier this year when it was $58. The price of the 4TB drive has also come down slightly from this Spring when it cost $29 per terabyte.
So yes, if you're buying an external drive, you pay more for the lowest capacity. However, this doesn't mean you should automatically shell out for that 4TB drive. In the end, it still costs more. If you really don't need the storage capacity of a 4TB drive, put that extra cash toward something you actually do need. 
Interface
The vast majority of drives today are USB drives. From there it gets confusing. Today, the flavors include: USB 3.0, USB SuperSpeed, USB 3.1 Gen 1 (which is basically USB 3.0), and USB 3.1 Gen 2.
For the most part, it doesn't matter which of these versions you get (beware the much older USB 2.0, though). USB 3.0 allows transfer speeds up to 5Gbps, as does USB 3.1 Gen 1. USB 3.1 Gen 2 is the fastest USB version and can move data up to 10Gbps. No single hard drive today can surpass the throughput of USB 3.1 Gen 1, though. The sleight of hand to watch for is if a drive vendor lists "USB 3.1" in the specs without specifying Gen 1 or Gen 2. 
The only place Gen 2 can help is with an SSD. The good news is that while USB 3.1 Gen 2 used to be only in crazy expensive SSD external drives, it's fairly affordable today. A Sandisk Extreme Portable SSD that is our runner-up for portable storage can be had for $125 in a 500GB capacity.
Ports
External drives come with a variety of confusing and esoteric ports. Here's what you need to care about.
USB 3.0 Micro B port is the most common port on portable backup drives today. It's basically the same Micro USB port used on your phone, but beefed up with more connectors to hit USB 3.0 speeds. It'll hit 5Gbps and for everything but the fastest portable SSDs is still fine.
USB 3.0 Type B port is the larger, blocky version of USB 3.0 Micro B. USB 3.0 Type B is often used in larger external drive enclosures. As its name implies, it'll hit USB 3.0 speeds at up to 5Gbps. 
USB Type C is the newest of the USB connectors and features a nifty reversible design that's being used on phones, tablets, and PCs. Its most important feature is that it supports up to 10Gbps transfer speeds. The key phrase here is "up to." USB Type C is just the connector and port on the drive (or phone), but the rules allow USB Type C to support transfer speeds from USB 2.0's 480Mbps to USB 3.0's 5Gbps and USB 3.1's 10Gbps. So don't caught up thinking that because a drive you buy has this nifty new interface and port, you'll get awesome speeds. And no, hooking up a hard drive to a USB Type C port doesn't make anything faster.
Outside the theoretical speed advantage of USB Type C is a power advantage. A standard USB Type C port on your desktop or laptop should be able to support a minimum of 15 watts, so you should be able to run larger, more power-hungry drives.
Thunderbolt 3 was designed as one cable to rule them all, and it's rapidly looking like it will. The port basically adopts a USB Type C port and connector but also offers the ability to run pure PCIe at up to 40Gbps. For the performance-minded, Thunderbolt 3 is the natural alternative. One negative, though: It ain't cheap. Our recommended portable, the Samsung Portable SSD X5 is $697 for 1TB of capacity. A 1TB Samsung T5 on USB is only $278.
There's no reason to pay extra for a Thunderbolt 3 drive unless it's high-performance. A Thunderbolt 3 portable hard drive would be a complete waste of time and money for most people.
Thunderbolt 2 is, at this point, a dying port. Using a miniDisplayPort connector, it only really gained popularity on Macintosh PCs and is now being put out to pasture. Unless you have an older Mac, there's really no need to invest in a pricier Thunderbolt 2 drive or port today unless it's for legacy support issues.
eSATA is another mostly dead port. Made as an extension of SATA, eSATA was a cheap way to get beyond the 60MBps performance of USB 2.0. USB 3.0 put the last nail in its coffin, though, so you can ignore this port today. Like Thunderbolt 2, the only reason to invest in an eSATA drive is for use with older computers.
Buy two?
There's an old saying that "one is none and two is one." You can apply that phrase to space capsule oxygen tanks, plane engines, or whatever mission critical system you depend on, including hard drives.
The philosophy on external drives used for backup is that copying 10 years' worth of photos onto an external drive and then erasing it on your PC's local drive isn't actually a backup at all. If that drive gets chewed up by the dog or otherwise dies, you've lost it all.
If you're paranoid about backups, consider getting two backup drives, possibly in different colors, and then alternating complete backups of your PC to the drives every few month. This should mitigate data loss should a drive die. Truly paranoid people will even take the second drive to work so there's no chance of losing both drives to the same local disaster.
How we tested
We use our standard storage test bed to evaluate the performance of the drives we review. It's an Intel six-core Core i7-5820K on an Asus X99 Deluxe motherboard with a Thunderbolt 3 card and 32GB of RAM running Windows 8.1. We use various synthetic benchmarks including Crystal Disk Mark 5, AS SSD, and Iometer. We also use a manual file-copy test where 20GB of small files and another 20GB single file are written to and read from the storage drive. The test bed boots to a plain SATA drive, but all targets and sources for drive performance use a 24GB RAM disk.
We also use an Asus Thunder EX3 discrete Thunderbolt 3 card and Asus USB 3.1 10Gbps card for testing. The Asus card uses an Asmedia 1142 controller.
Our external drive reviews
If you'd like to learn more about our top picks as well as other options, you can find links below to all the external drives we've reviewed. We'll keep evaluating new ones on a regular basis, so be sure to check back to see what other drives we've put through their paces.
Note: When you purchase something after clicking links in our articles, we may earn a small commission. Read our affiliate link policy for more details.
---
Also See:☟
---